This Entreprenuer is Building His Parenting
Business by Following His Toddler's Lead
STEVE SCHIFF JUNE 8, 2017
The following was produced in partnership with Fatherly, a parenting resource for men who understand
that embracing what they've become doesn't mean giving up who they are.
There's a certain balance all fathers must strike between embracing their new role and their lifelong identity. Simon Isaacs is especially invested in finding that middle ground. Isaacs is a co-founder of Fatherly, a platform conceived as the modern dad's answer to the purple and turquoise newsletters previous generations of men had been signed up for (either by ruse or by force) by their pregnant partners. He's also, along with his wife, the proud parent of a two-year-old daughter, Kaia. Isaacs often wonders whether to tell people he has two kids or two startups, and with good reason–both were introduced to the world within one month of each other. While he's still finding his balance, Isaacs is realizing he has as much to learn from parenthood as he has to teach about it. A recent father-daughter trip to Liberty Science Center revealed more lessons like when to lead them, when to follow them, and when to recognize that, either way, the toddler's in charge.
The truth–and irony–is I don't get to spend as much time with her during the week as I'd like. So the weekend is really special. She ultimately controls our schedule but we always give her options. It sounds ridiculous but there's something powerful in listening to and respecting a two-year-old to establish her voice. Including what she wants to wear.
Sometimes you end up doing the same stuff over and over again just because they like it. And what they like may change by the minute–two-year-olds are not reasonable. But I think it's still cool and important to give them a voice. It's a balance between introducing her to new places, things, ideas, and experiences and the things I'm passionate about and like to do.
On this day, I gave her options of the beach, children's museum, aquarium, zoo, and Liberty Science Center. What came out of her mouth was "Liberty Science Center." I was pumped because I'd heard a lot about it but never ventured across the river to check it out. That's one of the best things about having a kid–sometimes it's like having that old friend visit and being a tourist in your own city with them. I wouldn't visit the Statue of Liberty on my own, but one day I will with her.
Our mornings start early, around 6 or 6:30. We got dressed–and since it was her day I gave her some options of what I should wear and she picked one out–walked the dog, I got some coffee, and then we jumped in the car. One thing I've learned is you have to be conscious of nap schedules. Dawdle too long and you could miss your activity window and end up stuck in the car for two hours while they sleep. We got there as quickly as we could.
She's always in charge and she knows it. Right from walking in the door, I told her all the different things there were to see and play and interact with and gave her the chance to lead. She wanted to start with the fish.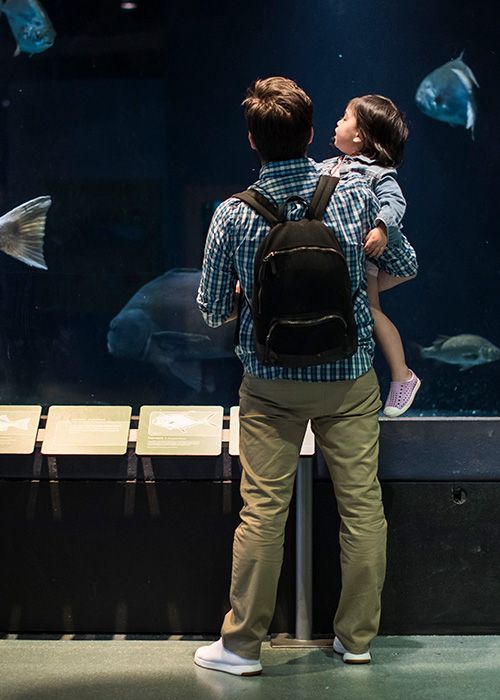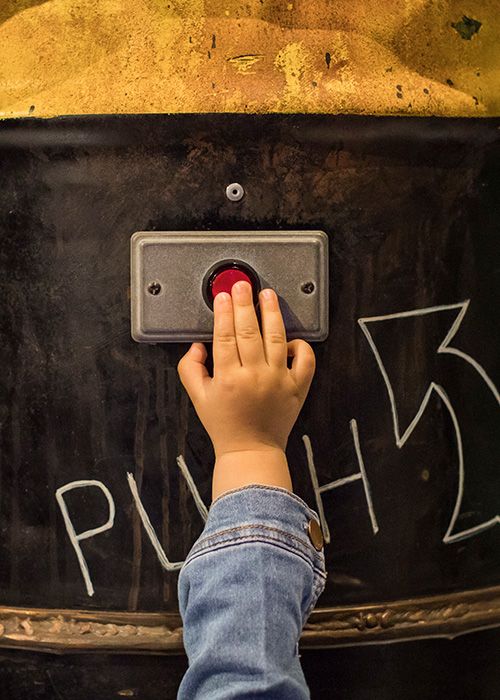 They had this great Mythbusters exhibit. She has no idea what Mythbusters is but it's an opportunity for me to show her some cool science and technology things. We're not STEM crazy by any means but it's still important to expose her to all that.
Liberty Science Center clearly puts a ton of thought into every element and exhibit. Even at a young age, each experience puts a little bit of an impression on her mind.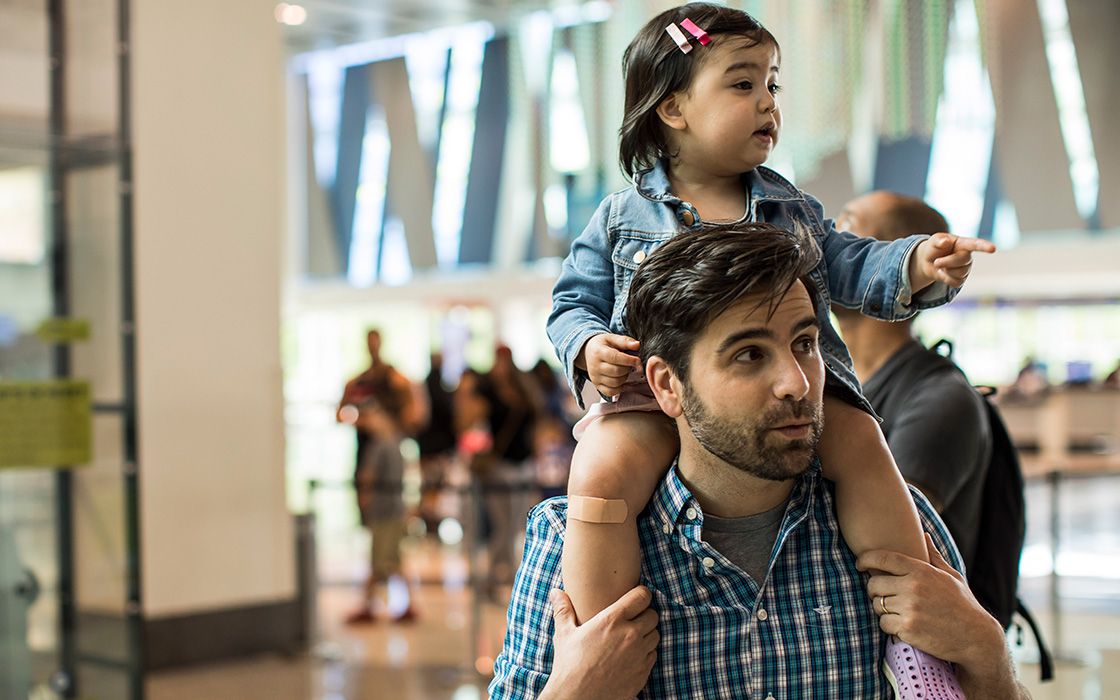 They had a place specifically for toddlers to play and interact with sensory activities–and for me to get her off my shoulders, give my back a break, step back, and let her explore and do her thing. Interact with other kids, negotiate her body in space, share blocks, things like that. You end up connecting with other parents in those moments.
Honestly, I'd go back by myself, even over a more adult-focused experience like an art museum. Seeing her learn and discover new things, as a dad, you start to see the world through the eyes of a kid again. And that's pretty awesome.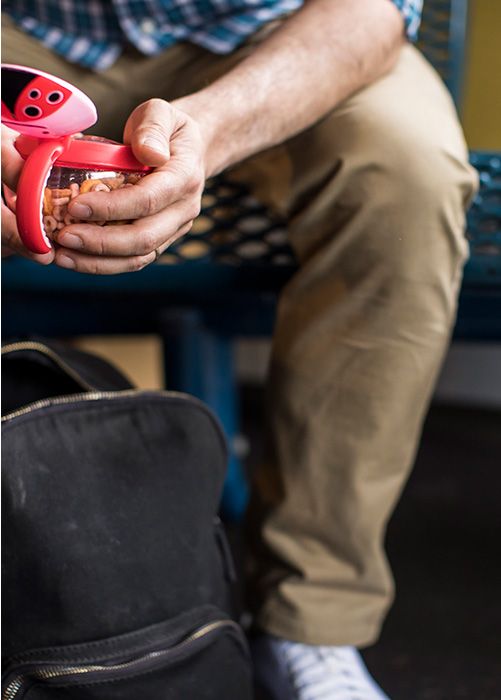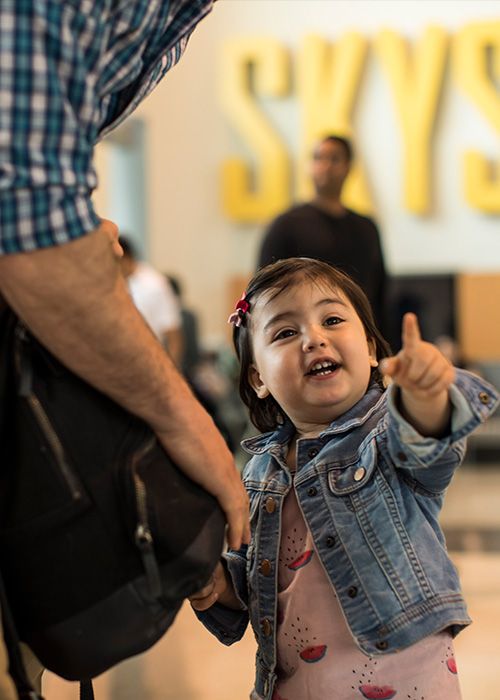 As with any good experience with your kid, we ended at the gift shop. She's pretty good about not asking for or wanting much but after a long day at the museum, we had to at least get the monkey. And, of course, we finished the day with ice cream.
Kids, even toddlers, are smarter and more capable than we give them credit for. We have to find the balance between showing them what's out there and giving them freedom of choice and letting them lead. They'll only be able to make choices if they know what choices are out there. If I stopped showing Kaia new things, I'd end up in an endless loop of ice cream shops.
The older you get, the deeper you get into your routine and the less willing or able you become to try and learn new things. Kids have an awesome ability to shock you out of your routine and inspire you to wonder what's possible, what's out there.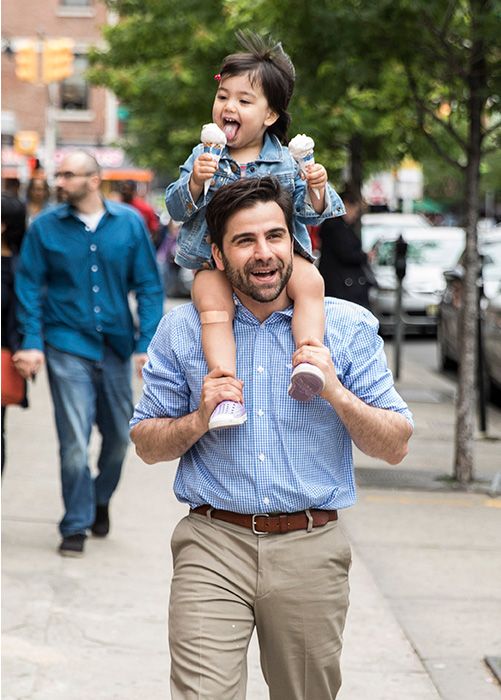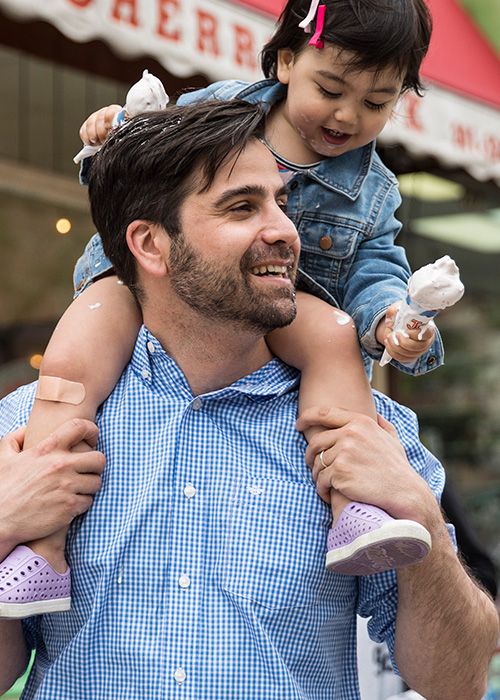 It's a lot to be a father. I'd be super proud if all I was was Kaia's dad. But I still want to be me. I still want to explore. Kaia inspires me to learn new things and encourages me, in her own way, to be my best self. But she's also a little Socratic gadfly–I can't just do the same thing over and over again. Yes, I'm exposing her to a lot, but she's exposing me to a lot more.