Please select stores for the entries highlighted in red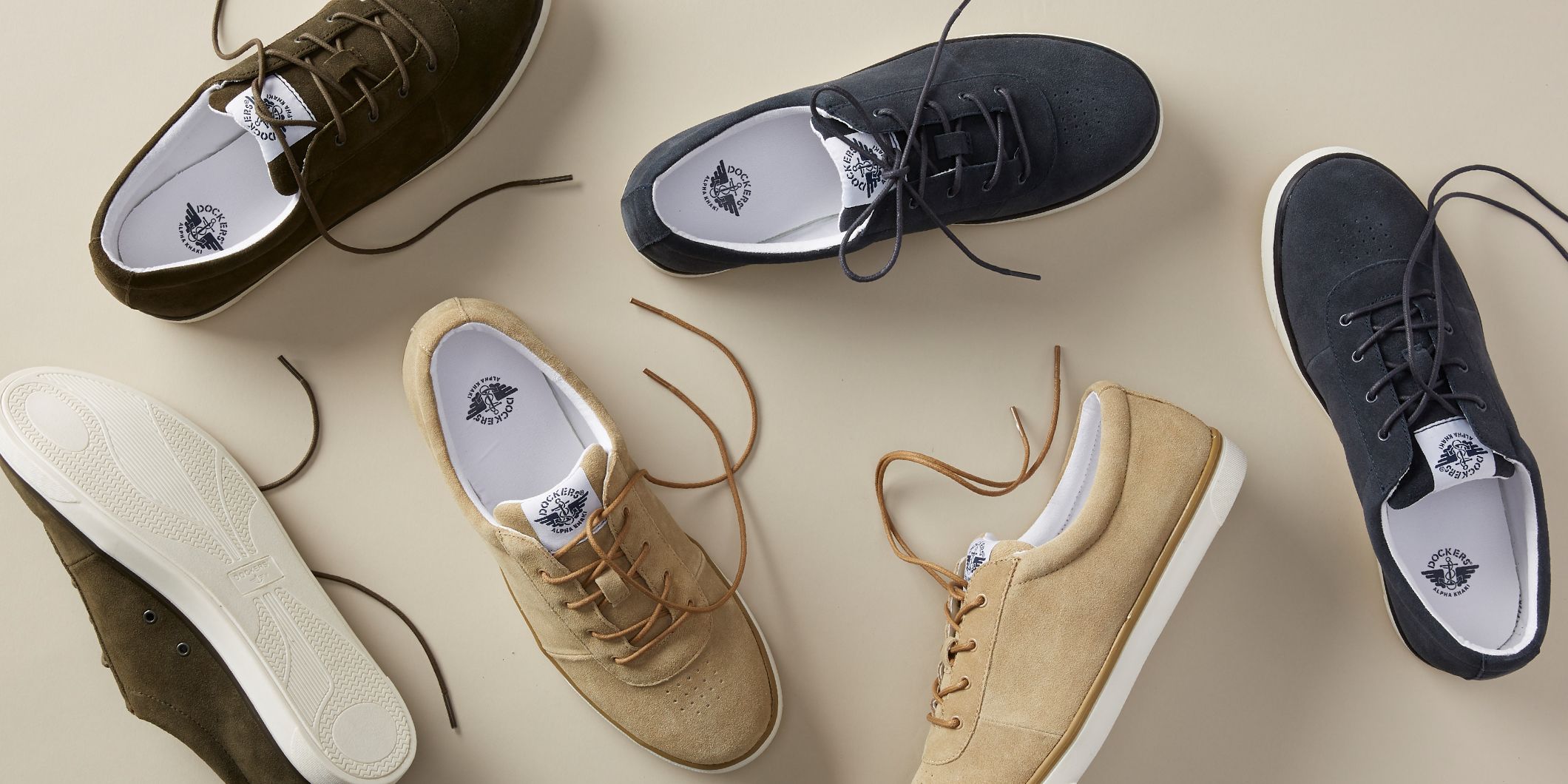 Shoes
Lace up or slip on, then step out.
---
All Motion Comfort™
This Dockers®-exclusive technology melds soft cushioning with extra support.
---
Boat Shoe
A nautical classic, the boat shoe was designed for no-slip wear on deck. Now it's an instantly recognizable slip-on style with a unique shape and laces all around.
---
Brogue Detailing
A combination of perforation and pinking — a.k.a., artfully placed holes and zig-zag edges — you'll find brogue detailing on all sorts of formal shoes.
---
Cap Toe
An extra bit of leather on the toe that goes straight across.
---
Comfort Zone Technology
Combining a cushioned sponge EVA heel, a Latex footbed, and a Fusion Footbed, this Dockers® exclusive boasts an extra layer of dual-density cushioning. These features can be found in both men's dress shoes and casual footwear.
---
Cupsole
This is a special kind of sole construction, most commonly found in sneakers, that protects your foot via a sole that "cups" it.
---
Derby
A menswear classic that's versatile enough for weekdays or weekends, this style is usually made with black or tan leather and has a visible lace-up panel (unlike its slightly more formal cousin, the Oxford).
---
EVA
Similar to rubber, but more sustainable and recyclable, EVA is a common material found in soles that provides cushioning and stays flexible under most conditions.
---
Eyelets
The holes in the shoe where the laces are threaded through.
---
Flyweight Construction
Dockers® Flyweight shoes include lightweight flexible construction with a Fusion Footbed and Memory Foam for maximum comfort. These shoes are perfect for the man on-the-go.
---
Fusion Footbed
This Dockers®-exclusive footbed adds an extra layer of cushioning for an ultra comfortable experience.
---
Insole
Where the bottom of the foot meets the top of the inner shoe, it's where the comfortable-making magic happens.
---
Loafer
A popular slip-on shoe that's great for business casual, loafers perfectly toe the line between a sharp look and a feeling of leisure.
---
Monk Strap
A formal shoe whose laces or elastic closures are covered by a wide strip of leather that buckles at the side. They look equally sharp with men's dress pants or casuals.
---
NeverWet®
An exclusive coating that makes shoes ultra-water and stain resistant, NeverWet is perfect for looking good without worrying about spilled wine, spilled coffee or rain.
---
Tongue
The part of the shoe that's between the lace closure — so-named because it often sticks out like a tongue.
---
Outsole
Where the bottom of the shoe meets the ground, outsoles are all about traction.
---
Oxford
A formalwear staple, this sleek shoe is usually made in black or brown leather without visible eyelets and tied so that the laces are minimal. No collection of men's dress shoes is complete without a pair of these.
---
Upper
Simply put, the upper part of the shoe that's not the sole.
---
Wingtip
Wingtip shoes features a toe cap that looks sort of like a "W," and usually also have brogue detailing to boot.
---
MORE IN COMPLETE THE LOOK